Help to Ease Painful Cramps
Help to Reduce Symptoms of PMS and Menopause
Regulate Hormones
Reduce Fatigue
Improve Energy
Reduce Inflammation
Nourish Female Energy and vigor Replenish strength & boost energy levels Regulate hormones, reduce swelling, and manage PMS & menopause symptoms. Health King®️ Dong Quai Lady's Herb Tea is crafted from wild Dong Quai (Chinese Angelica) from pollution-free highlands of northwest China, infused with Carthamus Flower & Astragalus plus other herbs. Women's well-being is founded on Qi and blood balance. This time-honored formula has been used in Eastern herbalism for centuries to help to bolster the blood, improve blood flow, and restore Female Qi-Blood balance to boost vigor.
Regular price
Sale price
$7.99 USD
Unit price
per
Sale
Sold out
90% Wild Herbs

Artificial Free

Sugar Free
HOW TO DRINK

Steep 1-2 tea bags in boiled water for 3-5 minutes or add ice for a chilled tea beverage. To adjust the level of flavor you can steep the tea longer or shorter based on preference. As a medicinal herbal tea, we suggest reusing each tea bag until the water is colorless to ensure optimal benefits from each bag.

Recommended 2-3 servings per day
INGREDIENTS

Dang Quai (root), Astragalus (root & leaf), Carthamus (flower), Motherwort (stem & leaf), Codonopsis (root), Szechuan Lovage Rhizome (root), Schizandra (berry), Green Tea (leaf), Jasmine (flower)
30 DAY GUARANTEE

We want all our customers to be happy with their purchases, so we offer a 30-day satisfaction guarantee. If you're not completely satisfied with your purchase, you may return the package to us for a full refund within the first 30 days.

For any further questions please reach out to our lovely team at service@healthkingusa.com
View full details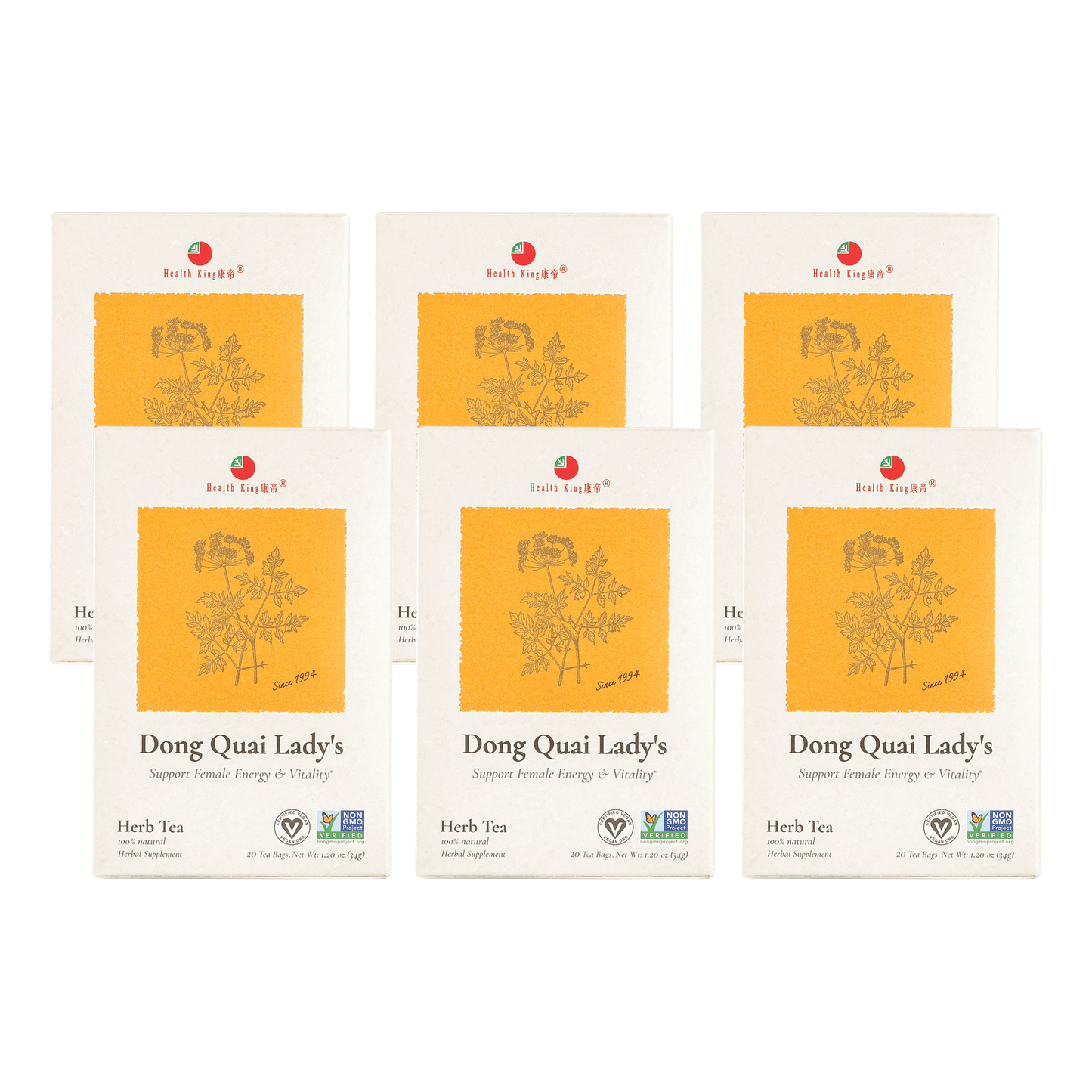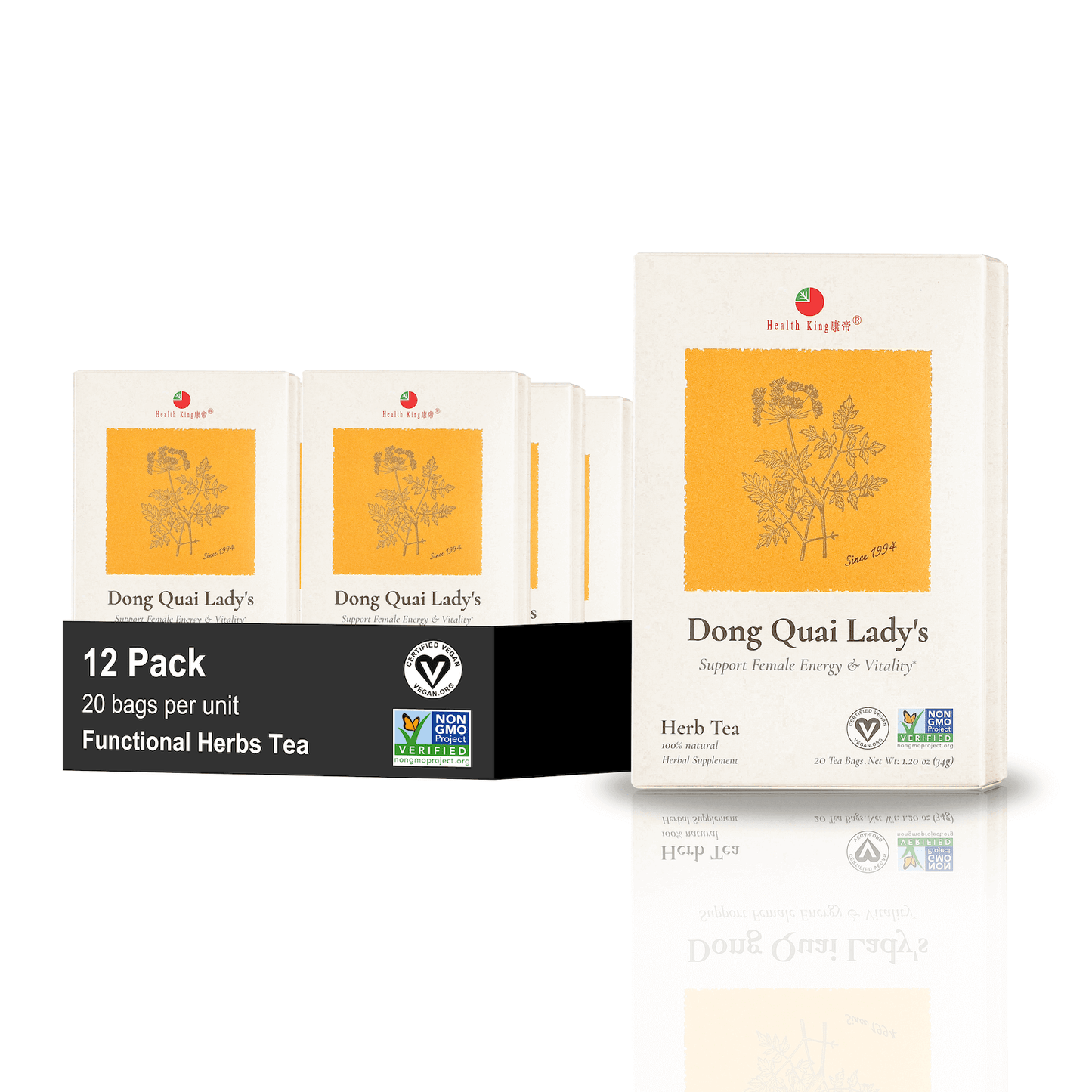 Secret of Our Blends? Let's Break It Down
Menstrual Cramps, Female Energy & Helps to Ease Cramp
Dang Quai and Astragalus are used to have balancing effects on hormones for centries, which can improve female energy. Additionally, these herbs are tonics and adaptogens, which help build up the body's overall resistance to stress, may also help boost the immune system, which will help you stay healthy and energetic. Finally, Dang Quai has anti-inflammatory properties that help reduce fatigue and improve energy levels in the body.
Codonopsis and Szechuan lovage rhizome are two herbs that will help ease cramps. Both are believed to help nourish the body, reduce fatigue, reduce cramps and muscle tension, and increase circulation, which can all work together to help ease painful cramps. Additionally, these herbs may help relax the muscles which help further reduce the cramping sensation. They are both helpful in relieving PMS symptoms such as cramps, as well as helping with menstrual irregularities. Moreover, they can be used together as a natural remedy to help alleviate cramping pain.
Carthamus flower and Motherwort are both well-known female herbal remedies for hormonal regulation. Motherwort stem and leaf are used to help relax the uterus and reduce cramping. Together, these herbs can help regulate hormones, reduce inflammation, and reduce symptoms of PMS and menopause. They can also help with painful periods and menstrual irregularities.