Old Fashioned & Classic Formula

Manages blood sugar balance

Healthy glucose metabolism aid

Controls urine sugar levels

Based on the trusted TCM formula

Positive blood sugar balance reviews
Achieve balanced blood sugar with Health King Sugar Controller herbal tea. Crafted for healthy glucose levels and inspired by ancient wisdom. Trusted blood sugar balance supplement with positive reviews. To manage blood sugar, try this tea.
Regular price
Sale price
$7.99 USD
Unit price
per
Sale
Sold out
90% wild herbs

Artificial Free

Sugar Free
HOW TO DRINK

Steep 1-2 tea bags in boiled water for 3-5 minutes or add ice for a chilled tea beverage. To adjust the level of flavor you can steep the tea longer or shorter based on preference. As a medicinal herbal tea, we suggest reusing each tea bag until the water is colorless to ensure optimal benefits from each bag.

Recommended 2-3 servings per day
INGREDIENTS

Mulberry (leaf), Cassia Seed (seed), Seabuckthorn (leaf), Polygonatum (root), Prunella Vulgaris (stem & leaf), Atractylodes (root), Scrophularia (root), Green Tea (leaf), Jasmine (flower)
30 DAY GUARANTEE

We want all of our customers to be happy with their purchases so we offer a 30-day satisfaction guarantee. If you're not completely satisfied with your purchase, you may return the product(s) to us for a full refund within 30 days from the original order date. Your refund will be returned once all eligible products have been received.

For further questions, contact our lovely team for assistance anytime at service@healthkingusa.com
View full details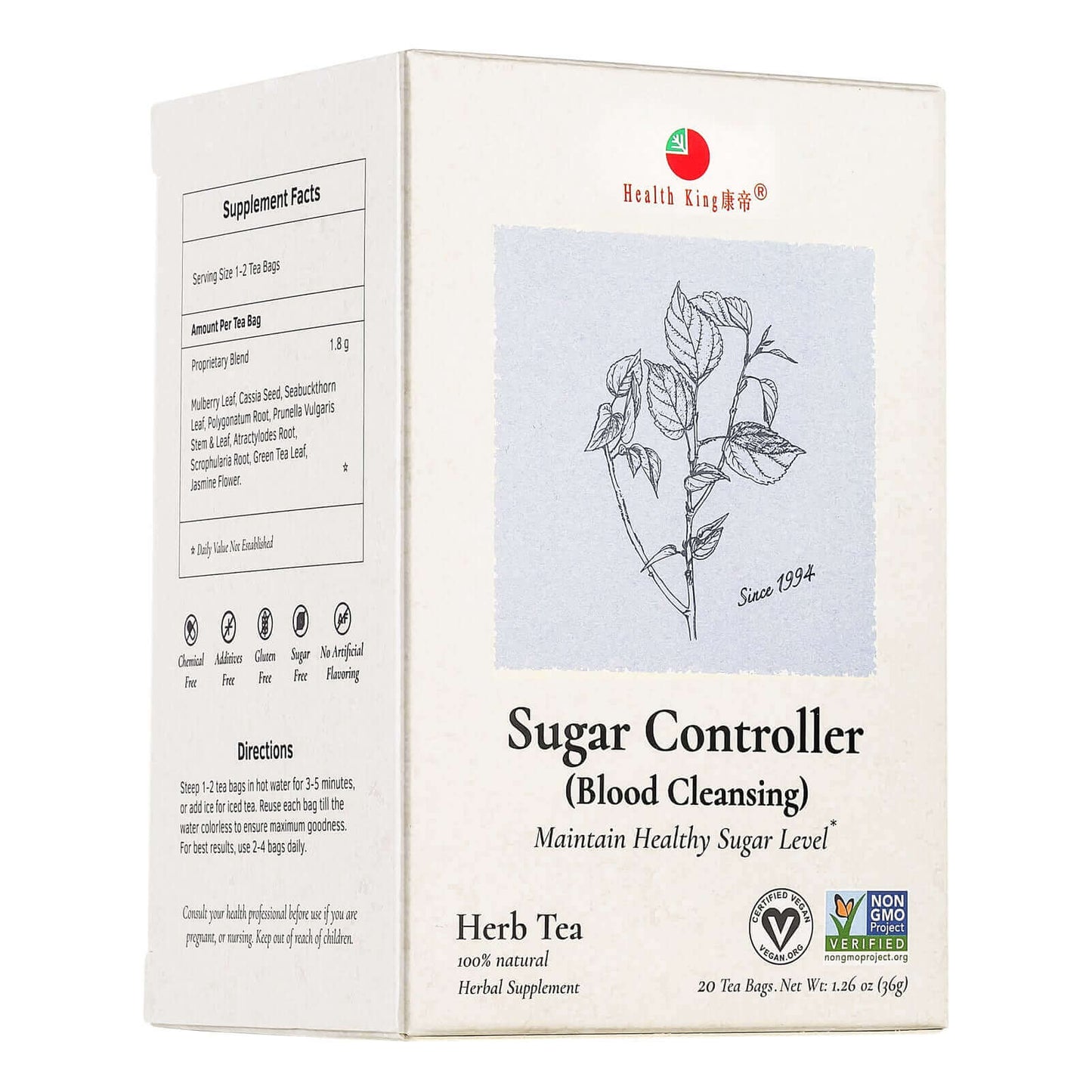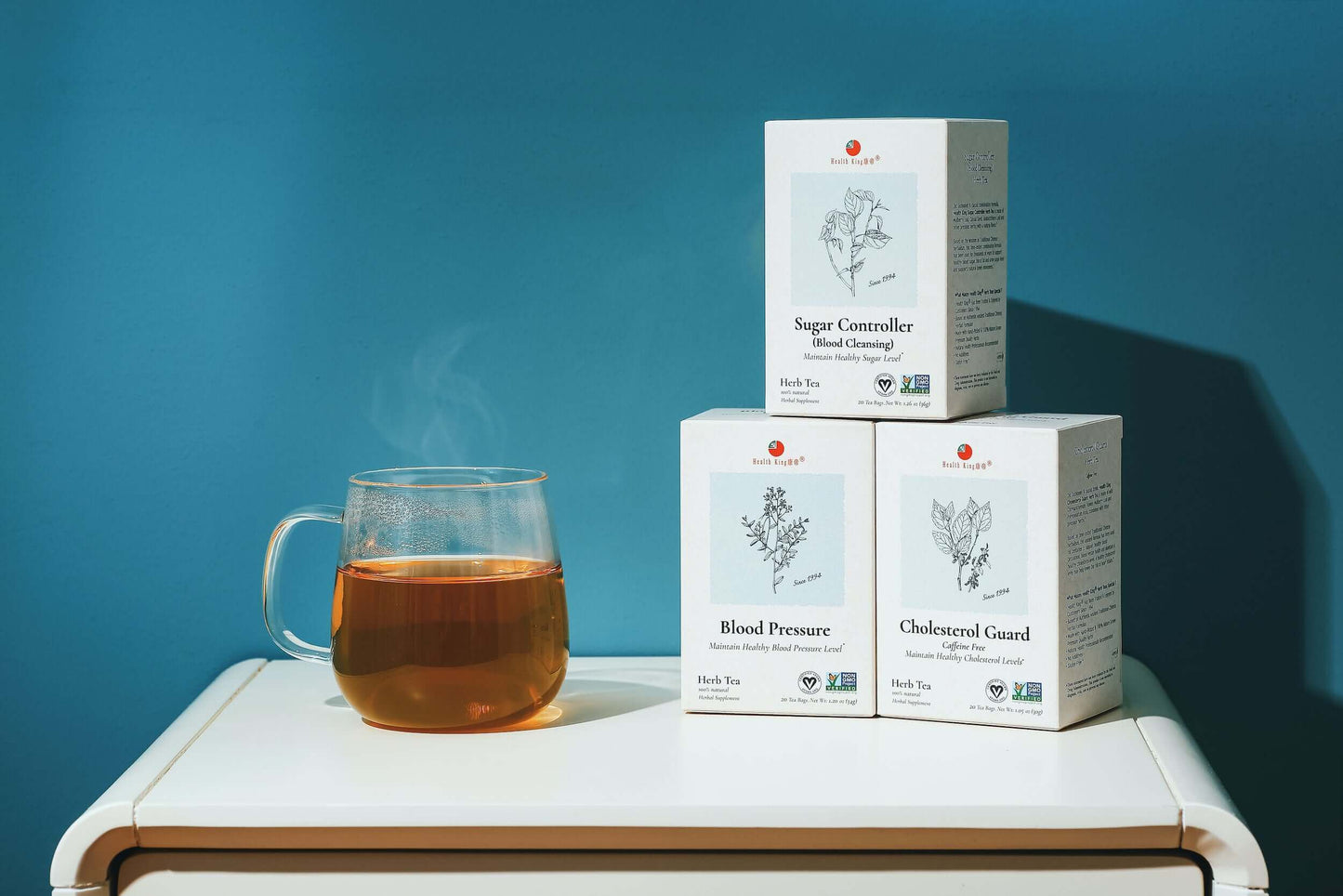 Secret of Our Blends? Let's Break It Down
Sugar Level & Blood Cleansing
Mulberry leaf is an effective tool to help regulate blood sugar levels due to its active compounds, including chlorogenic acid and quercetin. In addition, the plant also contains vitamins and minerals which can help improve glucose metabolism.
Meanwhile, cassia seed, seabuckthorn leaf, polygonatum root, prunella vulgaris, and scrophularia root have been found to have antidiabetic effects, which means they can effectively help to reduce blood glucose levels. This is thought to be due to their active compounds, including flavonoids and phenolic acids, which can help improve insulin sensitivity and glucose metabolism in the body.
*Signatures since 1994
Have a Questions?
Reviews claim that this helps regulate sugar. Is that true? Secondly how does it do that?

Sugar controller tea is meant to help balance and keep healthy levels of blood sugar and blood fat. This is one of our top selling products and many customers have told us that the blend has helped them. Our teas are based on traditional Chinese medicine, which means they work by stabilizing and bringing balance back to effected systems in the body. It's different than say, a western medication that works on one specific area. In TCM, when blood sugar is out of balance, it can mean that the there is liver qi or blood stagnation, stomach yin deficiency or spleen deficiency. This is a general blend to help address the needs of many different types of imbalances in the systems of the body that regulate sugar levels.
What exactly does this tea taste like?

The most of the herbs are not normally found in North America. So you can imagine a kind of blend of jasmine tea with an earthy, botanical flavor.
Can this be drank as iced tea?

Yes, but first we suggest using hot water to maximize the absorption of active ingredients, then refrigerate it or add ice cubes.
How many bags in each box?