Classic Formula
Eye Tiredness

Clear Vision

Retina & Eyesight
Protect Eye Delicate Tissues
Sip your way to better vision naturally with Health King®️ Clear Eye Herb Tea. This tea is specially formulated to help support healthy retina and eyesight, as well as promote a healthy liver and reduce inflammation. Enjoy a healthy cup of tea that will keep your eyes in tip-top shape.
Regular price
Sale price
$7.99 USD
Unit price
per
Sale
Sold out
80% Wild Herbs

Artificial Free

Sugar Free
HOW TO DRINK

Steep 1-2 tea bags in boiled water for 3-5 minutes or add ice for a chilled tea beverage. To adjust the level of flavor you can steep the tea longer or shorter based on preference. As a medicinal herbal tea, we suggest reusing each tea bag until the water is colorless to ensure optimal benefits from each bag.

Recommended 2-3 servings per day
INGREDIENTS

Astragalus (root & leaf), Chrysanthemum (flower), Cassia seed (seed), Wolfberry (berry & leaf), Prunella vulgaris (stem & leaf), Polygonatum (root), Green tea (leaf), Jasmine (flower)
30 DAY GUARANTEE

We want all our customers to be happy with their purchases, so we offer a 30-day satisfaction guarantee. If you're not completely satisfied with your purchase, you may return the package to us for a full refund within the first 30 days.

For any further questions please reach out to our lovely team at service@healthkingusa.com
View full details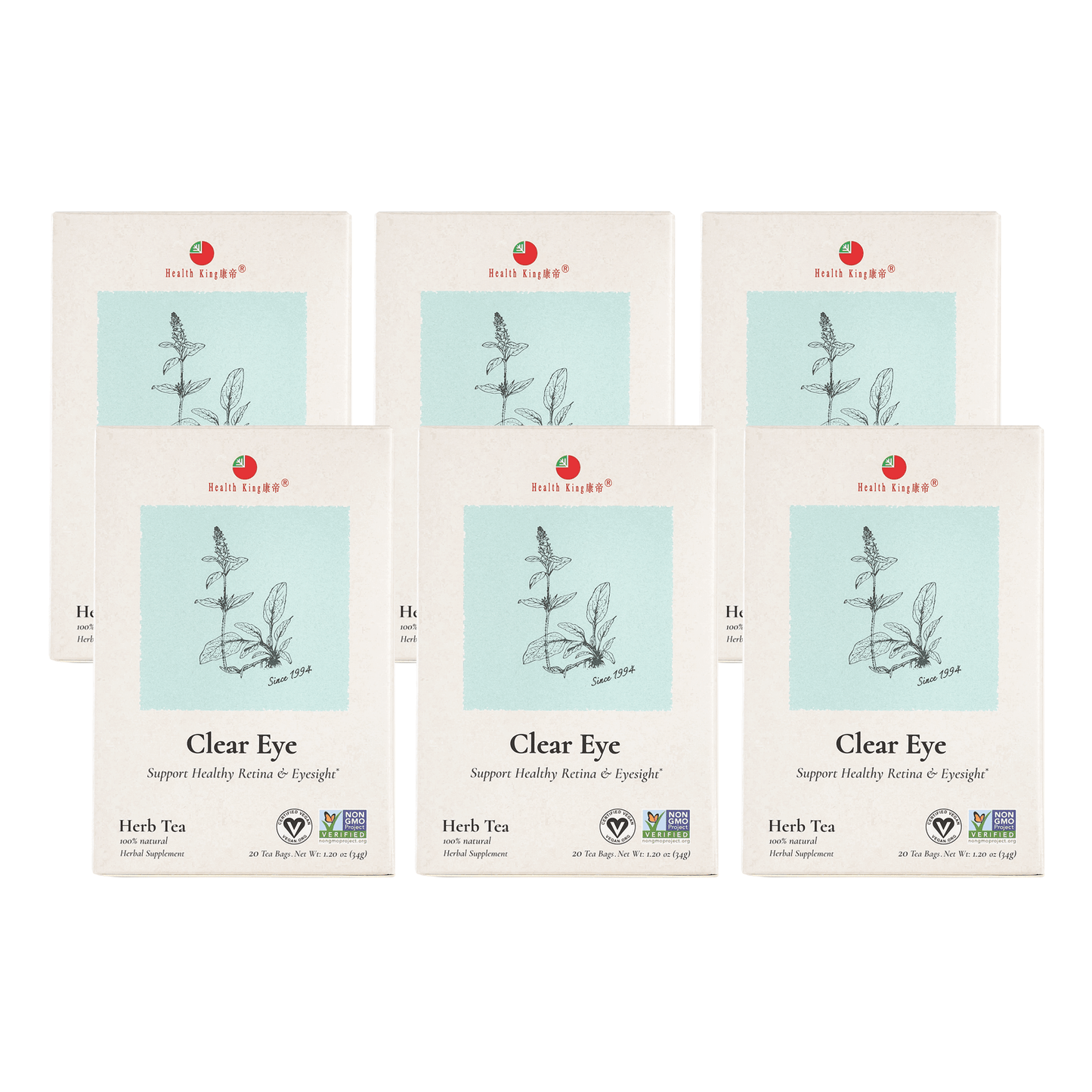 Secret of Our Blends? Let's Break It Down
Retina & Eyesight
In Chinese traditional medicine, a healthy liver is believed to influence vision and eye health. To support a healthy liver, Chrysanthemum flower can be used as it encourages detoxification and bile flow.
Combining Cassia seed and Prunella vulgaris can also offer benefits for supporting a healthy liver, which in turn can help to improve overall health and vision. Both herbs have anti-inflammatory, antioxidant, and antimicrobial properties, reducing inflammation and protecting the delicate tissues in the eyes.
Goji, Astragalus, and Polygonatum have been used in traditional Chinese medicine for centuries to help boost energy, improve physical performance, and enhance overall wellbeing. These herbs are believed to help increase energy levels and reduce fatigue by stimulating the body's natural processes. Additionally, they can help to improve circulation and promote healthy digestion, providing an extra boost of energy and vitality. By combining Goji, Astragalus, and Polygonatum for maximum effectiveness.you can experience the full health benefits these herbs have to offer.