Soothing Lungs
Clear Out Toxins 
Reduce Coughing
Repair the Lung Damage Caused by Smoking
help to reduce the desire for tobacco
Beneficial for soothing the lungs & clearing out toxins,
Health King®️ Quit Smoking Herb Tea
helps revive your
respiratory system
& reduce coughing. Enjoy the traditional Chinese herbs renowned for their
detoxifying
&
cleansing
properties, as well as their ability to support healthy respiratory function, soothe the throat, & address addictive behavior. Feel more awake and optimistic with a delicious, naturally-made tea.
Regular price
Sale price
$6.99 USD
Unit price
per
Sale
Sold out
80% Wild Herbs

Artificial Free

Sugar Free
HOW TO DRINK

Steep 1-2 tea bags in boiled water for 3-5 minutes or add ice for a chilled tea beverage. To adjust the level of flavor you can steep the tea longer or shorter based on preference. As a medicinal herbal tea, we suggest reusing each tea bag until the water is colorless to ensure optimal benefits from each bag.

Recommended 2-3 servings per day
INGREDIENTS

Peppermint (stem & leaf ), Loquat (leaf), Licorice (root), Fishwort (stem & leaf), Sichuan Fritillaria (seed), Green Tea (leaf), Jasmine (flower)
30 DAY GUARANTEE

We want all our customers to be happy with their purchases, so we offer a 30-day satisfaction guarantee. If you're not completely satisfied with your purchase, you may return the package to us for a full refund within the first 30 days.

For any further questions please reach out to our lovely team at service@healthkingusa.com
View full details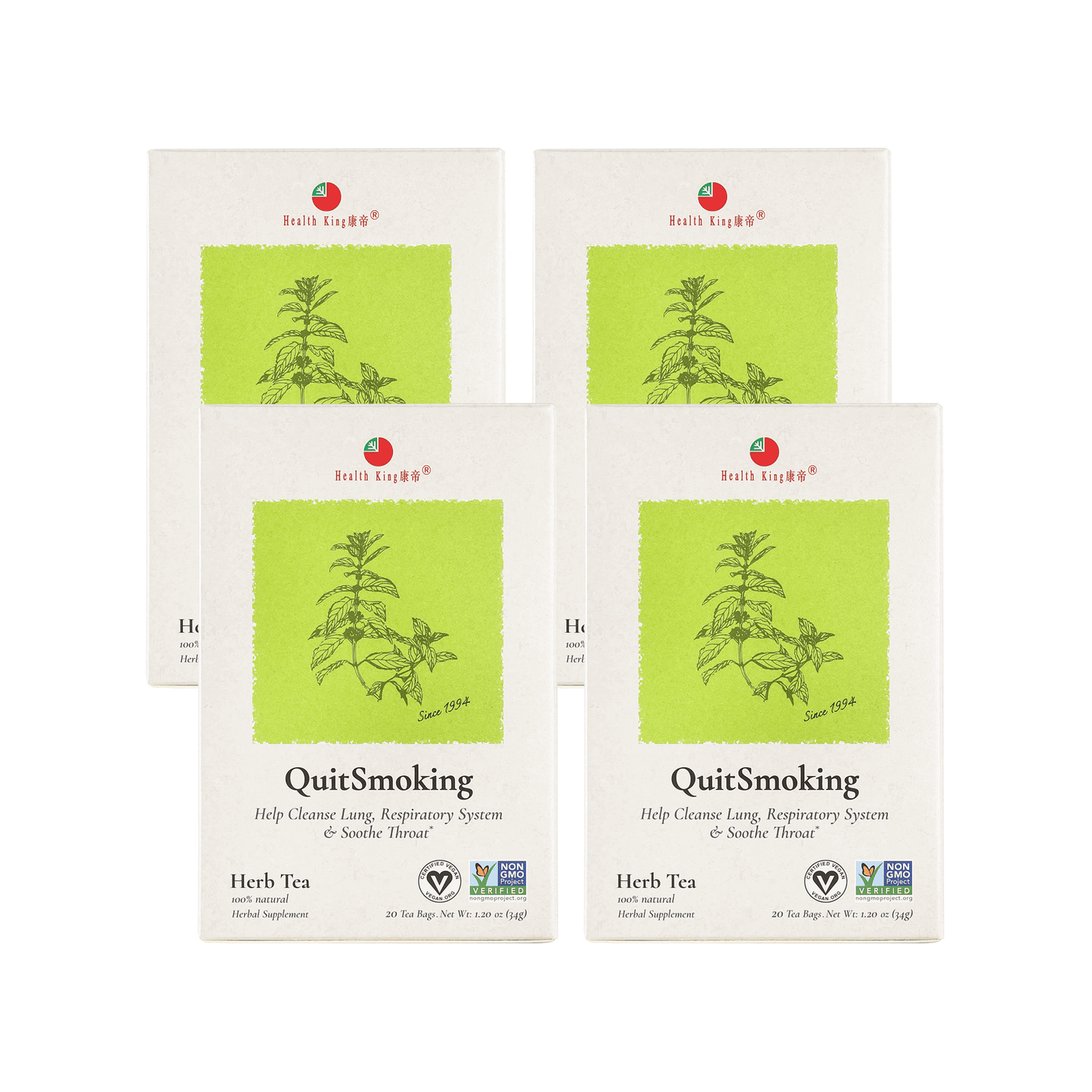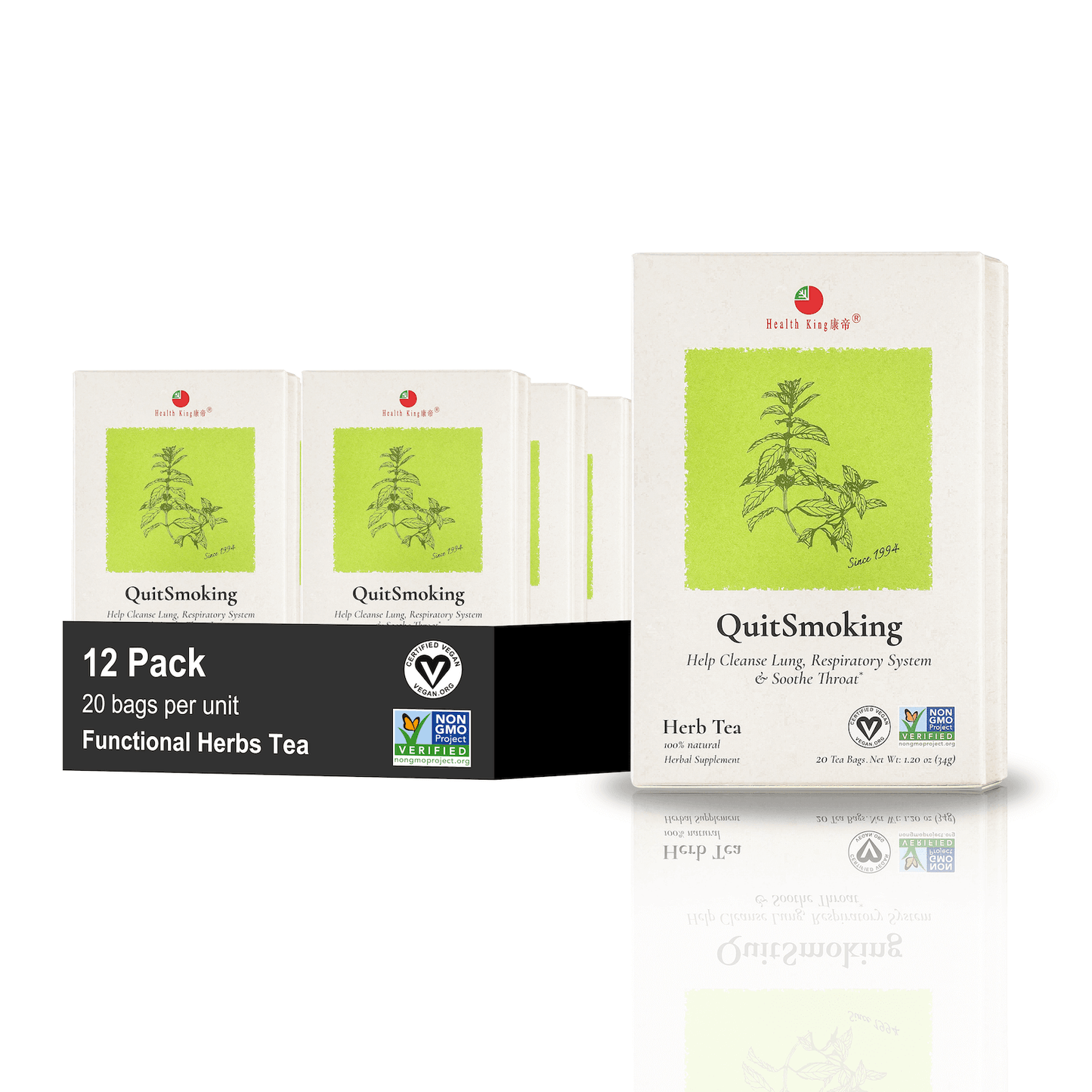 Secret of Our Blends? Let's Break It Down
Help Cleanse Lung, Respiratory System & Soothe Throat
Peppermint, Loquat, and Licorice are all herbs that are believed to be helpful in soothing the lungs after smoking. Peppermint is known for its ability to reduce inflammation and promote relaxation. Loquat is a herb with antioxidant properties that can help clear out toxins and keep the lungs healthy. Licorice can also help clear the lungs of toxins and reduce irritation. Additionally, these herbs can help reduce coughing and aid in the repair of any damage caused by smoking. They can also help break up mucus and reduce congestion, making breathing easier.
Fishwort and Sichuan Fritillaria are two herbs that may help in alleviating lung damage caused by smoking. Fishwort is believed to reduce inflammation and promote the healing of damaged tissues. It can also help reduce coughing and break up mucus that is trapped in the airways. Sichuan Fritillaria contains alkaloids that reduce inflammation and improve lung function. Studies have found that it can help reduce the oxidative damage caused by smoking and protect the lungs from damaging toxins. Furthermore, these herbs can help improve airway constriction and reduce symptoms of wheezing and difficulty breathing.