Super Mushroom




Liver Detoxify

Protect the Liver From Toxins

Help to Improve Sleep Quality

Help with Depression

Immune Support

Daily Detox
Help to Reduce Oxidative Stress
This amazing formula aids in
liver detoxification
& protecting the liver from toxins, improving sleep quality, and even combating depression. Immune Support and daily
 Detox
 help to
reduce oxidative stress
.
Health King®️ Reishi Liver Guard Herb Tea
contains Reishi's "mushroom of immortality", an enduring symbol of strength and longevity in traditional Chinese herbalism. Great for nourishing the liver, supporting liver detox, and promoting healthy immune & liver functions, it's an excellent daily liver tonic. 
Regular price
Sale price
$7.99 USD
Unit price
per
Sale
Sold out
80% Wild Herbs

Artificial Free

Sugar Free
HOW TO DRINK

Steep 1-2 tea bags in boiled water for 3-5 minutes or add ice for a chilled tea beverage. To adjust the level of flavor you can steep the tea longer or shorter based on preference. As a medicinal herbal tea, we suggest reusing each tea bag until the water is colorless to ensure optimal benefits from each bag.

Recommended 2-3 servings per day
INGREDIENTS

Reishi Mushroom (whole lucid ganoderma), Astragalus (root & leaf), Schizandra (berry), Isatis (root), Wolfberry (berry & leaf), Chinese Yam (tuber), Perilla (leaf), Green Tea (leaf), Jasmine (flower)
30 DAY GUARANTEE

We want all our customers to be happy with their purchases, so we offer a 30-day satisfaction guarantee. If you're not completely satisfied with your purchase, you may return the package to us for a full refund within the first 30 days.

For any further questions please reach out to our lovely team at service@healthkingusa.com
View full details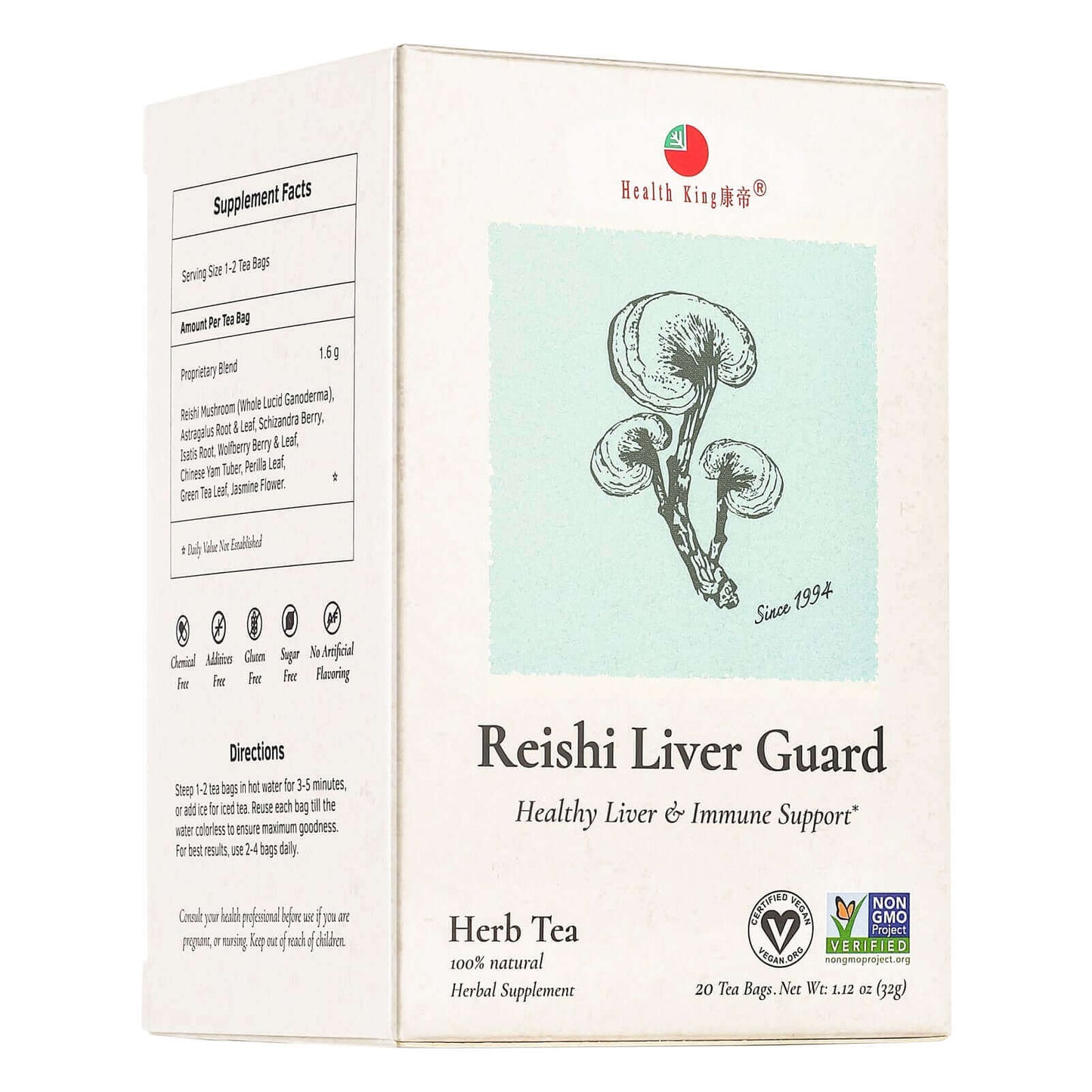 Secret of Our Blends? Let's Break It Down
Super Mushroom, Healthy Liver, Immune Support & Daily Detox
Reishi, also known as Lingzhi or ganoderma, is a type of mushroom that has been used in Chinese medicine for thousands of years. It is known to be a powerful superfood and beneficial for the liver, as it helps to detoxify the body and reduce inflammation. Reishi is abundant in polysaccharides, which are compounds known to stimulate the immune system and fight against infections. Studies have found that Reishi can help improve liver function and protect the liver from damage. Additionally, Reishi contains antioxidants that help to protect the liver from toxins and can reduce the risk of cancer, heart disease, and other health issues. Reishi has also been linked to boosting energy levels, improving mental clarity, and calming the mind. Studies have shown that Reishi can reduce stress, improve sleep quality, and even help with depression. It can also be used as a natural way to help manage symptoms of anxiety and ease joint pain. In addition to its medicinal benefits, Reishi also offers numerous nutritional benefits, such as providing essential vitamins and minerals like potassium, magnesium, and zinc.
Isatis, also known as Chinese Indigo Plant, is an herb that has been used for centuries in Chinese medicine to help detoxify the body. Helps to cleansing the blood and lymphatic system and removing toxins from the organs. Studies have shown that Isatis can help improve the body's ability to excrete toxins, boost the immune system, and reduce inflammation. It can also be used to improve liver health and aid in the detoxification of the liver, kidneys, lungs, and other organs. Isatis is rich in beneficial compounds, such as saponins, flavonoids, and polysaccharides, which help to reduce oxidative stress and protect the cells from harmful toxins.